KULGEET (कुलगीत)
जयति जय जय हे, योग विद्या संस्थान
पुरा संस्कृति और नव युग का प्रतिष्ठान।
जयति………………………………
आत्मा गौरव राष्ट्र निष्ठा विश्वभर में प्रतिष्ठा
ऋषि पतंजलि योग, शिक्षा का यह धाम ।
जयति………………………………
चरक सुश्रुत धन्वन्तरि की साधना का सार लेकर
विश्व-मंगल कामना का करता यह आव्हान।
जयति………………………………
सर्वे भवन्तु सुखिनः जनमानस का है भान
जड़ी-बूटी वनौषधि से हो पूर्ण यह अभियान।
जयति………………………………
योग, आयुर्वेद विज्ञान शोध् और अनुसंधान
शाश्वत संस्कृति मनोहर दृढ संकल्प का वरदान।
जयति………………………………
सुप्त जग को जागृत करता इसका अनुपम गान
युग चेतना नव क्रान्ति ये योगपीठ महान्।
जयति………………………………
गांव, किसान, जवान स्वदेशी का अभियान।
जन-जन को आन्दोलित करता भारत स्वाभिमान।
जयति………………………………
University of Patanjali (UoP)
The University of Patanjali (UoP) is named after the great Indian sage Patanjali (c. 900 BC,), who first compiled the numerous writings on Yoga in the form of aphorisms. It was established through Act No. 4/2006 of Uttarakhand State Legislature published in the State Gazette on 05.04.2006. The University is sponsored by Patanjali Yogpeeth Trust (PYP) and is located on Delhi Haridwar National Highway at Bhadrabad, Haridwar nearby the bank of the Ganges. The University is a member of the Association of Indian Universities.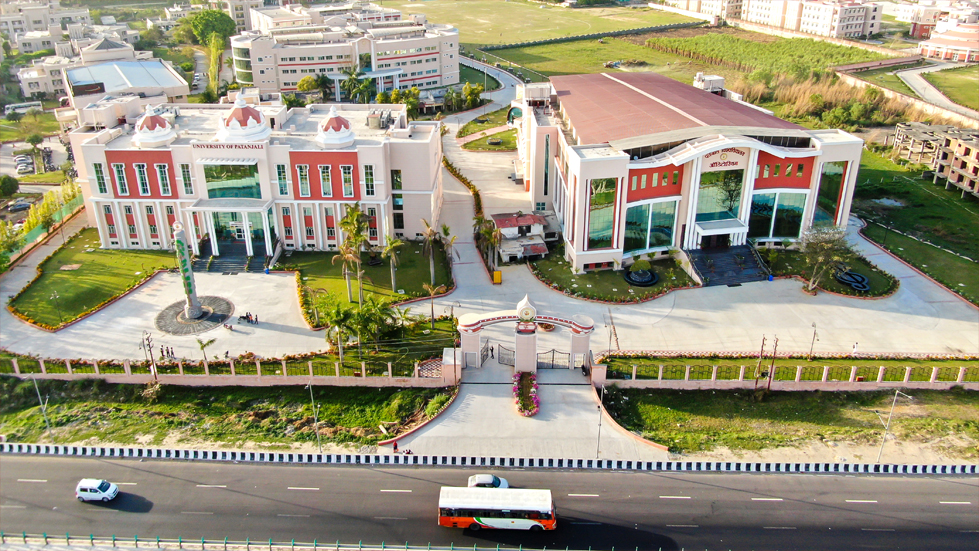 The modern education system has restricted itself to gain information for employment purposes and very little stress has given on personality development for social co-existence.
From self sustaining use of natural resources to self-destructive materialism, Revered Yog Rishi Swami Ramdev and Ayurveda Shiromani Acharya Balkrishna have given the clarion call of 'Back to Nature' and propounded the path of natural food to health and happiness through Yoga and Ayurveda. With the growing mass following, more Indians are eager to go back to Ancient roots of Wisdom. Asceticism, health care, integral education and entrepreneurship are its major domains of teaching-learning.
UoP Vision
To play a leading role in giving new and higher dimensions to the philosophy and practice of Yoga, Ayurveda and Indian culture within the country and across the globe; to endeavour that the knowledge contained in the above fields in Indian and other traditions, along with that of medicinal plants and herbs, be incorporated and accorded their rightful place in the higher education system; to prepare global citizens by bringing together the Vedic knowledge and the modern sciences, who would be equipped with diverse skills, in tune with international standards, and be inspired by sattvic (righteous & ethical) karma (conduct & practices) and spiritual intuition, and also who would, imbued with the spirit of karma yoga, make incessant all-out effort to achieve their goals and be endowed with a balanced, integral and scientific outlook.
UoP Mission
To bring about divine combination of Yoga and Ayurveda for use by the world in 21st century.
To carry forward the knowledge of Yoga and Ayurveda to the door step of every town, village and to contribute to the creation of healthy, prosperous and spiritual person, society, nation and world.
Achieving excellence in Vedic and modern knowledge, science and research in the field of Yoga, Ayurveda and other traditional medicinal systems and Indian culture.
Empowering students to achieve their professional goals in the context of Vedic knowledge and Modern science.
Diverse dimensions of education – distance education system, strengthening educational relations by providing self-employment, vocational and self-reliance based education.
To bring harmonious functioning in heritage, culture and environment for improving quality of life.
Learning the related highest human values.
UoP Objectives
Objective of Patanjali University is to establish and investigate thorought scientific basis for the knowledge advanced by the ancient Indian sages and to undertake systematic research investigations in the background of scientific facts so as to provide it a firm foundation in the emerging world;
To provide employment oriented education and awaking to the youths so that they become in-grained to preserve knowledge of Ayurveda, herbal medicines, food hygiene, National duty, Indigenous love and Swadeshi life style;
To establish various colleges and institutions based on traditional lines including Yog, Ayurveda, Veda and Vedang etc. and to provide graduate and post graduate degree courses. And will have right to meet our own objectives, to run diploma courses and certificate programmes which may be sponsored by University Grants Commission;
To establish an R & D center to promote research and innovations in the field of Yog, Ayurveda, Indian culture and Traditional Sciences.
To provide for instructions and training in such related branches of learning as it may deem fit.
To arrange the research activities for the creation and dissenintion of knowledge in schools, so that these traditions may be establish on the world fora & also for the easy achievements of students.
To undertake Yoga/Ayurveda and other such activities related studies so that common people leading to revival of Indian culture in high esteem.